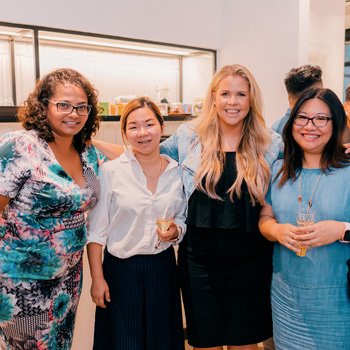 At Startup2Life, we believe in building a community of entrepreneurs that are passionate and eager to cultivate the skills that are necessary to succeed in today's digital world. On the 5th of May our Founder, Anna C Mallon, hosted a networking event, with the support of one of South East Asia's fastest growing entrepreneurial communities The Co. The event served to celebrate completion of the 6Weeks2Startup program – an educational toolkit that enables emerging business owners to make their mark in their respective fields.
6Weeks2Startup is an online course that provides early-stage entrepreneurs with the building blocks to assess the competency of their business, and develop the required feats to convert their ideas into a reality. The event was offered to the public, and featured some graduates from the 6Weeks2Startup February batch, in addition to entrepreneurs, investors and mentors in the local community. The six-week online course offers personalised mentorship and virtual guidance, by providing users with the tools to build a customised, tangible business plan with realistic metrics for success. The first module applies to the 'Lean Startup methodology' to ensure that the users' business ideas have an identifiable customer base, and solve an addressable gap in the market prior to formulating an action plan.
Subsequently, the second module demonstrates how users can convert specific market gaps into an opportunity to provide solutions to these challenges for potential consumers. The following modules help users develop their product and identify resources to commercialise their goods and or services. Late stages in the program include assistance with regards to branding and communications, website design, and a digital set-up of one's business. These tools are necessary for all types of entrepreneurs to succeed in today's digital marketplace and economy.
The networking event also featured entrepreneurs that represented vastlyincongruent areas of expertise, which provided the audience with a diverse range of perspectives. The three speakers, Neena Khattar, Lionel Chok, and Tee Wee Ang could not be more disparate in terms of industry: Neena's advertising career propelled her to launch her own branding agency, In2It Consulting, while Lionel, a media and film aficionado, founded virtual reality startup iMMERSiVELY. Lastly, Tee Wee founded Kooki , an Artificial Intelligence application that enables marketing services for entrepreneurs, as well as Lever & Punch, a content marketing agency.
Apart from their areas of expertise, the event's featured speakers had much to offer, in terms of their own startup philosophy. Brand Guru Neena Khattar, founder of consulting agency In2It Consulting, summarises the entrepreneurial lifestyle through a single statement: startups are a marathon, not a sprint. She elaborates that entrepreneurs tend to get caught up in the dirty details and attempt to do everything at once, such as marketing, invoices, and meeting clients, and therefore tend to burn themselves out. Consequently, Neena stresses the importance of pacing one's self in a job where there's a never-ending laundry list of things to do, so entrepreneurs can retain their stamina and agility. Furthermore, she reveals that entrepreneurs should not only measure success by revenue, but also by their wellbeing and positive impact on the lives of their customers. In the cutthroat business world, attitude is as equally important as aptitude, and entrepreneurs should possess a holistic understanding of success to ensure their own happiness and fulfilment. If all goes well, entrepreneurship can be an emotionally satisfying and rewarding experience.
MORE pictures of the event here


Written by
Sunni Lal
Volunteer Events & Writer, Startup2Life Team