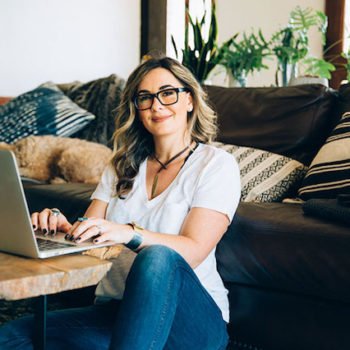 Creating a website, logo or brand identity can take up hours, or even days or weeks – especially for non-designers. As a freelancer, corporate or early-stage entrepreneur, you may find yourself struggling with copy that speaks directly to your clients, picking colours that match your mission or coming up with a logo that encapsulates your brand. Even if you've already made a decision, how can you be sure that you've built a design that allows for flexibility in the future? How do you know that your choice reflects solid research and market-tested results?
At Startup2Life.com, it's no secret that we value branding so much that it's included in the modules of our flagship 6Weeks2Startup online course. One of our important exercises is to come up with a logo for your ideal business, either by yourself or with a pro. If you're a freelancer, corporate or early-stage entrepreneur looking to build your brand in the most efficient and cost-effective way, where do you start?

To get expert advice, our founder Anna C. Mallon sat down with Chassie Bell, the designer extraordinaire of Startup2life.com. If there's anyone in the design world that we're most excited to interview, it's Chassie. She's a brand specialist, passionate home cook, former yearbook nerd, novice homesteader and wife and mom to two dogs. She is not only a talented and successful graphic designer but has years of experience working with entrepreneurs of all stages.
"Fun, joy, ease and freedom…"
Like most of us, Chassie's career path wasn't a straight one. Just a few years ago, she decided to work full-time as a nutritionist to leave her job as a corporate graphic designer. Then to her surprise, "I was getting more clients asking about my design and branding than actual work as a nutritionist!" Even though it was a tough decision to leave the world of nutrition and holistic wellness that she loved, the market demanded her creative work.
"I was tired of the corporate grind. I wanted to set my own hours and get the financial freedom to control what I earn," she says. In this second bout in the design world, Chassie – armed now with business-building skills – decided to go full-time as a freelancer. Her website, Chassie Bell Design and Branding, offers brand strategy sessions, logo design, and responsive websites targeted for women entrepreneurs. "Ultimately, my work is about helping womenpreneurs design beautiful brands so they can get out into the world and do their life's work."
Asked about how she finds work-life balance, Chassie shared a piece of wisdom from Danielle Laporte's book, The Desire Map. "When I started my career, I made decisions based on what made me money and it was an exhausting, stressful place. With Danielle's book, I learned my core desired feelings are fun, joy, ease and freedom." With this fresh new mindset came a snowball of positive results – Chassie learned to say no to opportunities that don't align with her intentions, set boundaries for herself and attract project that was truly meaningful to her. "It shifted how I approach my business," she added.
5 tips for creating a brand or logo
Chassie gave 5 pieces of brilliant advice for freelancers, corporates or early-stage entrepreneurs in how to build a successful brand even if you're strapped for cash:
Start with essentials first
"Some successful businesses don't even have websites and logos at first. It's more important to focus on revenue than branding, especially if your business is very early-stage. If you're in a lean startup mode and need a logo, ask yourself: How can I get something up and move forward so I can get more clients through the door?"
Know your ideal client
"Building your brand starts with knowing your ideal clients, so you can understand what directly speaks to them. Once you have that, you can build visuals and copy based on that. Ask yourself: How do you want people to feel when they visit your site? Use simple, regular words to and clear, concise description of what you do."
Check out free resources
"For entrepreneurs with a limited budget, be sure to check out free online resources. Some my favourites are Canva for design, Pinterest for inspiration, Squarespace as a startup platform, WordPress for easy-to-set-up sites and Fiverr for creative freelance work."
Build flexibility in your design
"A business is an evolving vehicle. Shifting logos and refreshing your branding, that's all essential. Remember that if you need to adjust in the future, there's an ability for you to do that."
Invest in a branding specialist when you have customers
"If you're not a designer building website or making a logo, it can clog up your time. When you have customers, use some of your money to invest in a brand specialist and designer. This is a stage where I love working with people because they're starting to get clients and are willing to up-level their business."
If you're looking for support, guidance, and focused mentorship, we are now accepting applications for our 6-week Startup2Life online course.
Written by
Crystal Neri
Team Startup2Life