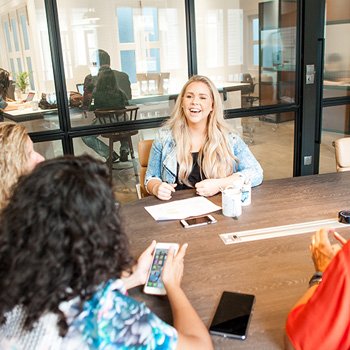 Now that you've established profitability in your business, your confidence is surging, your team is more motivated than ever, and your direction set towards actionable goals, are you ready to take it to the next level? Scaling means change, and while not everyone loves change, this is a good kind of change to embrace. Just like the birthing pains you experienced first-hand when you just started out, scaling can hit you with challenges fast and hard.
Sure, business can grow at a rapid pace and that's definitely a cause for celebration, but when left unnoticed — and with the wrong focus — scaling can go haywire.
The good thing is, many startups and businesses ahead of you have lasted and have overcome the challenges of scaling. Learning from them lets you prepare and understand exactly what you're dealing with and how to deal with it when you decide to scale.

Scale Physically
Expansion doesn't just mean growing your market and opening new channels. It could also mean that you need to add more servers or acquire new equipment. Depending on the nature of your business, expanding your physical location may or may not be urgent. Your office may be at a basement, like some successful startups, or at a co-working space, check if you have maximised the advantages of your current office before you make the big decision to invest in bigger spaces that could incur overhead expenses.
Scale Your Team
The people you surround yourself with, bring in not just the skills and abilities that make your product and business great, but also the energy that acts as the glue that keeps your company culture and synergy intact.
As your company grows, different silos emerge, which makes it even more important to make better hires. To prepare for this, grow your network and meet like-minded people. Find communities with similarly spirited and skilled individuals that you can connect with.
This is one of the best benefits of being based at a co-working space, which is why we were ecstatic when The Co. Singapore invited us to be Entrepreneur-in-Residence for a few months. It's premier spaces are situated at two locales in Singapore and another expanse of space in Kuala Lumpur – proving it to be quite a strategic spot to get a really good foothold across Southeast Asia. Spotify, VLT Labs, and Buro 24/7 have all found home in #thecosingapore and just recently MOX moved to The Co., adding more to the community that's already brimming with talent and opportunities.
Trusting other people more may seem like a tedious process but you'll find out soon enough that it's an essential part of the process. Otherwise, outsourcing other tasks that are not integral to your system could also be an option to consider. In the end, you ought to steer your sights to the bigger picture and be increasingly visionary, while empowering your growing teams at the same time.
Not All Things Need Scaling
Keep that customer delighted and commit to customer satisfaction. Do you want to know why? Ask Zappos. Never fail in making it a point to provide amazing customer service. Little things like immediate turn-around time or personalised handwritten cards instantly make them feel valued. Every customer touch point or interaction is an opportunity to demonstrate impeccable customer attention and service.
In the startup world, a lot of people wear different hats to complete different deliverables. Taking initiative in the small tasks can sometimes have the grandest rewards. And there's no better time to ensure that everyone in the team functions autonomously and takes initiative in finding creative solutions to day-to-day problems, whether menial or complex.
Written by
Stephanie Jarina
Content Writer, Startup2Life Team