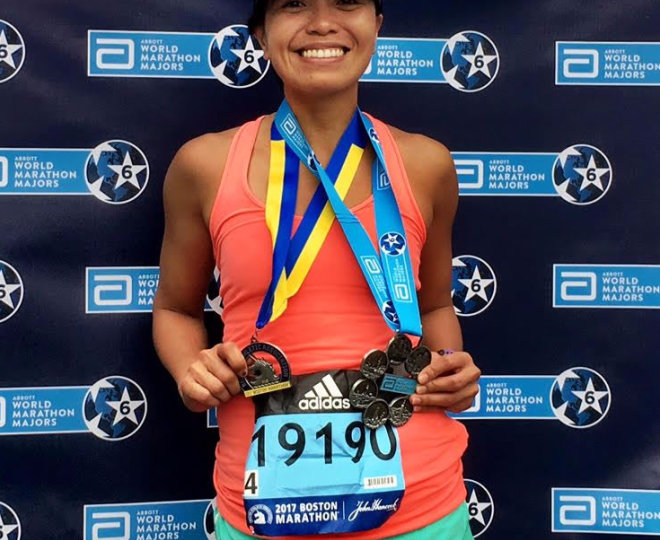 We think it's safe to say we'd all like a little more work-life balance in our lives. Since we're all bound to a day's 24-hours, meeting someone who actually nails work-life balance like athlete, mother, Startup2Life student and entrepreneur, Mench Dizon, is a huge breath of fresh air.
Apart from her vibrant energy, she is readily armed with enthusiasm and wisdom, which she gathered throughout her corporate and entrepreneurial journey. Mench has evidently poured so much of this into her startup, TripClub. TripClub helps SMEs and enterprises manage business travels by aggregating all bookings and overall travel management into one place.
Her decade plus of corporate experience has helped shape her values, while her entry into the startup scene has also broken down established methods. "I'm opening myself to a wider opportunity of business building—a process of building versus being fixated on the end result." She continues, "While you know your goals and your objective, you need to be flexible enough to expand or deviate in case there's a need to do so. What remains constant is the ability to build something of value".
Her transition from corporate to startup has taught her to really hone in on what's essential to achieving an ideal work-life balance. Mench shares her key takeaways on striking a good balance of eyeing the prize while being resilient to change.
Here are Mench Dizon's five hacks to achieve the ideal work-life balance as an entrepreneur:
1) Prioritize at the start of the day.
While she finds it a challenge to manage all of her roles and achieve the perfect work-life balance each day, especially being a mother of two, one of the biggest perks that Mench has as an entrepreneur is the freedom to create a schedule that works for her. "Everyday, I focus on the three things I need to do that has the biggest impact and that are the best use of my energy."
She and her husband maintains synergy around the house the same way. They understand the importance of putting together sacred time and being very specific about non-negotiables. "Strip off everything else, I know what's important to me. The moment I'm asked to make a choice, I know. And having that is a strength".
2) Understand the importance of 'failing fast'
Back in corporate, Mench learned the importance of delivering in the right quality and in the right specs, as the client expects. "What was honed is you have to iron out everything before you put it out in the market."
However, in the startup scene, it's a different story. With failing fast, there is discipline in delivering quality and in being forgiving at the same time. Mench realizes, "the best way to learn in building the product is to get it out there. There's still a little part of me that's afraid that I might fail or it might short change the client. Yet I'm more aware of that now as a tendency."
3) Maintain a support system.
"It's important that you have the right support system, and that is seen in different aspects", Mench says. With her husband, it's the pockets of time that they dedicate specifically to strengthen communication.
With her team, it's the people who compliment her weaknesses. She notes that if someone else is better at doing something, then she'd rather have that person do it. This lets her take a step back and see the bigger picture of the business, and helps her to achieve a better work-life balance by not trying to do everything alone.
4) Be intentional in your routines.
For people who are merely coasting through life and going through the motions, living intentionally can be a challenge. Mench reflects, "It's about being deliberate in how you spend your time. If you're not intentional about carving out those specific tasks, it will not get done consistently. The key there is consistency. Because it might get done sometimes, but if it's not a practice, then you don't get to improve on it".
Takeaway: work-life balance does not just happen. You have to be consistently proactive about making it happen.
5) Make time for rest.
As much as she is a hustler, Mench takes a breather every once in a while. "Being an athlete taught me that sometimes you think it's just about the training, that you need to push yourself as hard a you can. But you realize that because you're burned out, you don't give out quality results. It's the same with work."
She's a believer of the intervals of ease and effort, and she captures this beautifully in asserting that "pause is important because pause gives you recovery. And the moment you recover, you can drive faster and you can go harder. It's in the recovery, the rest, and the performance." This is the essence of work-life balance, we think!
At the end of the day, you nurture the things where you pour your time and energy, and delegate if possible. "You need to guard your energy." Most entrepreneurs would do everything on their own. Mench realized that it's important "to know and be aware of which are your energy suckers, and see if someone else would be better to deal with that."
While honing her daily routine to achieve work-life balance, Mench is also keen on expanding her network and improving her business craft.
She participated and won the Accelerator BootCamp for the iProspect Dentsu Aegis Female Foundry Programme, which was led and designed by our very own Startup2Life Founder Anna Mallon. From there, she went on to pitch at the Perth Tech Fest, where she became more open to new disruptive technologies, such as blockchain.
With her corporate background, being enrolled in Startup2Life's 6Weeks2Startup seals it all together. It gives her constant reminders of excellence in terms of standards and entrepreneurial concepts.
"It's reiteration, validation and reminder. The concepts that are being taught are the stuff that I'm actually doing. It's a validation that I'm still on the right track somehow. And it gives me a reminder on how to put framework around the things that I'm currently implementing."
Are you ready to learn the framework necessary for you to start-up your own successful business as quickly as possible, so you can achieve your ideal work-life balance?
Enter your email address below to receive more information on our life-changing course, 6Weeks2Startup and get a FREE copy of our e-book, 7 Easy Steps To Test Your Business Idea: