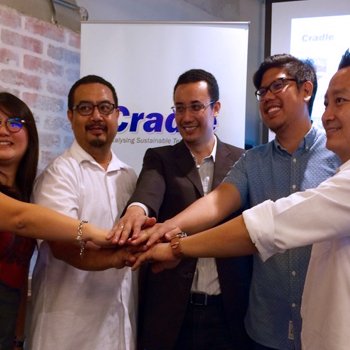 There's a huge difference in making things happen and letting things happen. For VLT Labs, the pursuit of success is a good mix of both. Helping launch over 40 startups in Asia and soon in Australia within just a little over five years, they successfully manage the changes happening inside and outside their business. Their co-founder, Andrew Tan shares their hard-earned lessons with Startup2Life.com, from starting the business at a time when the market is hesitant to go mobile and e-commerce to challenging today's on-the-go lifestyle and continuously evolving tech landscape.
Stepping Outside Your Comfort Zones Strategically
Each business has its own comfort zones. But since VLT Labs started in 2012, they've been making sure to keep out of theirs. Starting out, their focus was mainly to create e-commerce stores and businesses. "That was about four years ago when user adoption is not as good as today", says Andrew. "My dad would never buy things online five years ago, but now he buys things online. Now, user adoption is easier because people are more used to things being online. And today, there are new things like Artificial Intelligence (AI), Siri, and Alexa. So if you launch a new business in those new technologies, it will be more difficult." While Andrew notes of the recent tech challenges, he goes on to share that they're actually working on a session-based AI system that's launching in Australia soon. It's evident how for VLT Labs it takes more than just mere flexibility and adaptability to manage rapid changes and stay relevant.
Making Decisions With Actionable Insights and Foresight
Launching a business already brings its internal and external challenges. One of the keys to overcoming these challenges is by looking inwards to understand your strengths and overcome your weaknesses, all the while knowing the ins and outs of the market and tying these together with your strategic goals.
VLT Labs began how most new businesses did — with barely any experience and nobody knowing them. Andrew shared, "risk is the capital that you put out, to start the whole thing all by yourself. We have to build our own name to be where the market is moving." Persevering through all the challenges by believing in and leveraging on what they do best, Andrew says, "since we've done it in so many years, we've proven ourselves to an extent."

Go Global by Going Local
Presently in the Kuala Lumpur and Sydney tech scene, VLT Labs was able to successfully enter the markets by localizing their work for the startups in different countries. Andrew says they look at two fundamentals: Technology and Design Function. He further explains, "If you have no tech product, there's nothing you can market. Technology is not easy. No one sees it. But you can always localize the design function. Design is something we conceptualize to the local culture and deliver. But first, you have to understand the local culture, understand the founders, understand the users."
While growing globally, VLT Labs somehow maintained local and tight-knit relationships with startups in the communities that they're at. Andrew stresses how staying at The Co. has helped them be part of the local startup community, "The main thing is to be connected with the community because we work so much with startups. As we grow in size, we might have a combination of our own space and a space in a co-working space just to be connected to the community."
Embracing the Hard Work Behind Every Success
VLT Labs cultivates a culture of motivating each other. "We have a slogan — Inspire and Execute," says Andrew, "(we) make sure that in whatever we do, (and) we execute, (we) strive for excellence. Inspiring each other, sharing knowledge, inspiring outside of our company to the entire ecosystem."
Many businesses have comprehensive business plans, good feasibility studies, and inspiring advocacies. But some of them fail at the implementation phase because of they didn't expect the amount of hard work needed. A lot believe that the top companies have all the luck. Then again, success from hard work is not luck; luck happens when preparation meets hard work. To which Andrew agrees, "The one thing that I share is that in general, people see (a company as successful as) Facebook, and they have this dream of becoming a unicorn, which they should have. But sometimes they fail to see how much hard work goes through it. Some get inspired by the hype, and they don't see the hard work."

About The Co.
The Co. is one of Southeast Asia's fastest growing entrepreneurial communities, it's also a premium work experience that uniquely weaves life and business together through an inspired sense of adventure and purpose. Everything we do orientates you towards a successful business adventure. Whether it is connecting you to the best of the neighbourhood, making sure you are in good company or providing quality, design focused facilities, we are committed to your world working well so that you can get get on with your walk.
Written by
Stephanie Jarina
Team Startup2Life